Dragonfly Cafe is a new breakfast and lunch spot in the Irish Channel | Food and Drink | Weekly gambit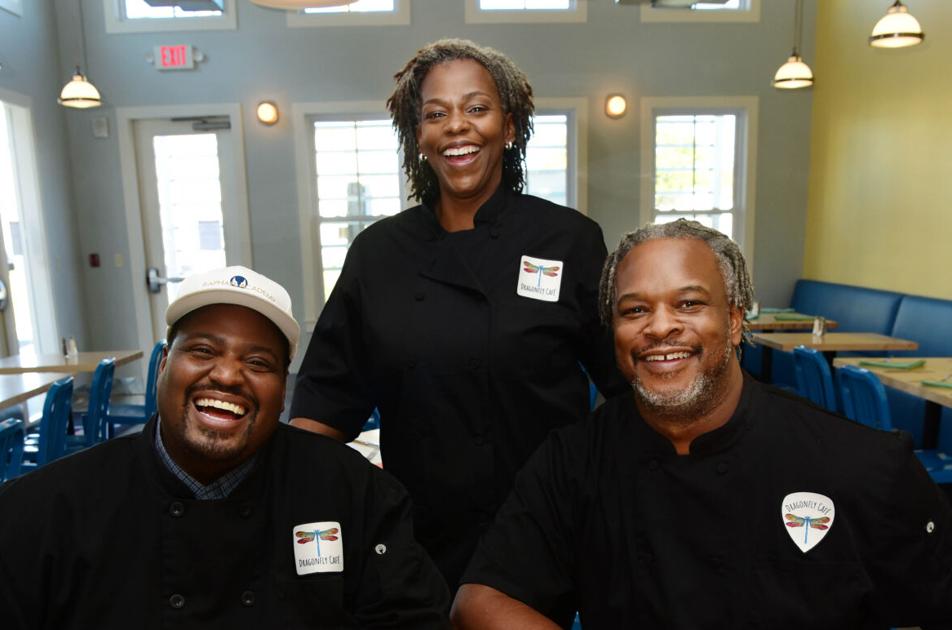 The name of Dragonfly Cafe, a new breakfast and lunch spot in the English Channel, was chosen for its overall meaning: the dragonfly symbolizes change, transformation, adaptability and self-realization.
The cafe is a partnership between Raphael Academy and The Guild, a Waldorf-inspired learning center established in 2012 for children and young adults with developmental differences, and cafe general manager Thaddaeus Prosper, his sister and master baker Tammy Patterson and chef Gregory Thomas.
People with differences in development, learning, language and behavior that can range from autism spectrum disorders to Down syndrome are often isolated from the rest of society, preventing interaction on both sides of this wall. According to Prosper, Dragonfly Cafe is as much about breaking down that wall as it is about serving fresh, local food.
The sweet and welcoming cafe, which officially opened on November 14, is in the heart of downtown Academy, a community space that also includes offices, a bakery, and the newly relocated guild. The Guild is an outgrowth of the Academy that provides post-secondary education, as well as professional and artist guild training for people 18 years of age and older.
Guild members are already helping out in the bakery, with plans underway to keep them busy in the cafe as well. The city center is a first step towards creating more living spaces for people with and without developmental differences in the neighborhood. This is part of the school's affiliation with the Camphill Association of North America, an international organization that aims to connect people with developmental needs to their communities.
Prosper, originally from Algiers, founded Sheaux Fresh with his wife Tamara in 2008. The local, family-owned supplier of fresh produce emphasizes regional products, from organic and sustainable agriculture. He spent nearly 20 years at the head of the restaurant house of Emeril Lagasse. His love for gardening comes from his parents.
"My mom was a patio gardener who produced amazing things from pots," says Prosper. "My father was a field farmer who pulled weeds out. We planted a large garden on the vacant lot next to our house, and I had work to do before I went to school and work to do after school, before I did my homework.
Prosper has been on the Northshore selling produce grown in Algiers most weekends at 2500 Bayou Road. But in the future, that market will move to Raphael Village in order to bring more people into the space.
Prosper and Chef Thomas, also a former student of Emeril, have crafted an all-day changing menu of breakfast and lunch options with an emphasis on seasonality and value. Menu items are $ 2, for two eggs, local honey, jams, cheddar cheese and bread, $ 16, for the grass-fed beef burger on a homemade bun served with fries from Sweet potatoes. As an eco-friendly tribute to a charcuterie board, The Paddle is an assortment of vegetables and accessories, and the generous portion is enough for two people.
Patterson's exceptional crispbread informs many dishes on the menu, including house salted salmon and pickles served with herb cream cheese on crostini and a grilled cheddar cheese sandwich with homemade pickles on the side. There's a Dragonfly salad, more local veg from Sheaux Fresh, a chicken salad sandwich or wrap, and a bowl of rancheros with poached eggs, beans, and salsa fresca. Breakfast options also include a bowl of yogurt and fruit granola, excellent avocado toast topped with pico de gallo, and three eggs served with oatmeal and toast. Pastries from the Academy's educational kitchen are also available.
There is a strong coffee and tea program, and all kinds of milk alternatives are available. They will soon be adding fresh juices.
Prosper says the partnership formed recently. "My wife worked at Waldorf School, where she met Jackie Case, who is the Executive Director of Raphael Village. About five months ago, she asked if we were interested in a partnership, "he says.
Prosper, who has a few great people in his family as well as first-hand experience as a special education teacher, sees everything about Dragonfly Cafe as a win-win.
"My sister's bread and pastry are overkill. Greg, who is also a level two sommelier, was looking after the pandemic and doing pop-ups, and I'm always looking for a learning experience, "he says. "We are a strong team and we haven't even opened it yet."
---
Dragonfly coffee
518 Jackson Avenue, (504) 544-9530
6.30 a.m. to 2 p.m. Thu-Fri .; 7:30 a.m. to 3 p.m. Sat.-Sun.
---